Basement Waterproofing and Foundation Repair in Nebraska
Rapid Foundation Repair provides foundation repair and basement waterproofing services to the northwest corner of Nebraska, including Chadron and Alliance. Northwestern Nebraska experiences many of the same foundation and water problems as South Dakota, such as water in basements after a snowfall, shifting or settling foundations, and bowing walls. Rapid Foundation Repair is available to assist the people of Nebraska with their foundation repair needs, whether the solution is as small as a vapor barrier installation or as big as a wall anchor installation. Whatever foundation or basement waterproofing problems you may be experiencing in Nebraska, Rapid Foundation Repair can help. Visit our Service Area page to learn more about the towns we work with.
Our Foundation Repair Services for Nebraska
Foundation repair can be a serious issue. Many of the small problems that you may be noticing around your home, such as wall cracks or sticking doors, are pointing you to a much larger problem that could potentially cause a lot of damage. These problems need to be fixed as soon as possible to prevent further structural damage. Many homeowners try solving these problems by themselves, and this often leads to more damage because of the large problem hiding behind many small ones. You may be able to fill a crack in your foundation, but trained experts are needed to repair the sinking or settling foundation that caused the cracks.
Signs That Your Home is in Need of Foundation Repair:
Cracked walls or floors
Bowing or leaning walls
Moisture or mold growth in your crawlspace
Puddles in your basement
Luckily, there are many foundation repair services offered by Rapid Foundation Repair that can quickly fix your foundation and give it extra support. Our trained staff is efficient and accurate with ECP product installation, ensuring the stability of your foundation repair. We offer helical, resistance, and steel push pier installation in Nebraska. These piers give your home the extra support needed to combat shifting or settling soil. Many floor cracks are caused by settling or poorly packed soil, and our helical piers can be quickly installed to lift your foundation into its original place. The majority of the piers and anchors we install make a minimal mess, meaning your landscape will not be ruined during the installation process.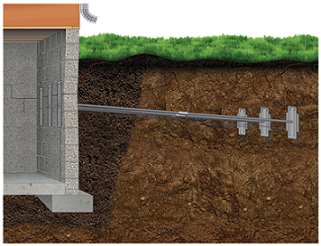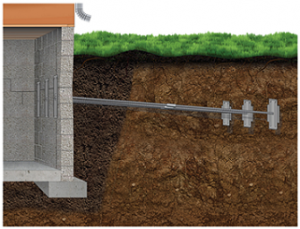 We also offer wall anchor installation to correct bowing or leaning walls. Our ECP wall anchors are installed by placing a plate on your wall and drilling a rod through into the soil, taking some of the pressure off of your wall. These anchors can be tightened over time, lifting your bowing wall back into place. Extra pressure, caused by wet soil around your home's foundation, causes your walls to bow and lean. Bowing and leaning walls may also be a sign of a sinking or settling foundation, both of which can be quickly fixed by our trained experts. Rapid Foundation can easily remedy this problem and protect your home from future water and foundation damage.
Basement Waterproofing Services for Nebraska
Our extensive basement waterproofing services are designed to keep your home dry and safe. Foundation problems in your Nebraska home can often lead to a need for basement waterproofing, as cracks or porous concrete can allow water and moisture to seep into your basement and crawlspace. This excess moisture creates the perfect environment for mold and mildew growth.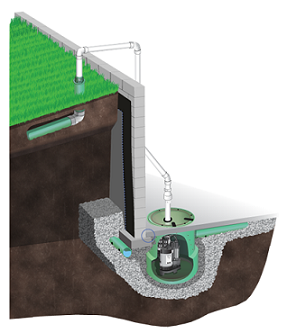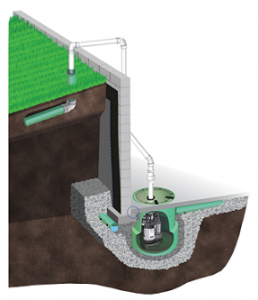 There are multiple different ways to get water out of your home or prevent it from invading in the first place. Rapid Foundation Repair offers a variety of solutions, ensuring you receive the most cost-effective, practical solution for your home.
Sump pumps can be installed to remove water from your home after heavy rains. Rapid installs high-quality ECP sump pumps that will remove water from your basement as quickly as possible. Sump pumps are often installed along with interior drainage systems.
Interior and Exterior Drainage Systems help waterproof your concrete foundation and lock moisture out of your home. Exterior drainage systems help direct water, usually from downspouts, away from your home to decrease the likelihood of it sinking into your soil and damaging the foundation. Interior drainage systems act something like a sump pump, removing any water that may quickly enter your home.
Vapor Barriers are installed in basements and crawlspaces to keep moisture out. Vapor barriers keep moisture from sinking into the pores in the concrete and other porous materials, preventing future mold growth. Vapor barriers also assist in reducing humidity in the home. Extra humidity can cause numerous problems and should be avoided.
Rapid Foundation Repair can correct all of your basement waterproofing problems. If you've noticed water in your basement or would like to prevent a flood in the future, contact us today. We would be happy to inspect your home and find the best solution for your specific needs.