Poly Concrete Lifting
Is your driveway cracked and uneven? Think that you need to replace your settling patio? Avoid replacing your patio or driveway and save money by utilizing polyurethane concrete lifting. Poly concrete leveling is a fast, stable, and effective way to resolve cracked, uneven, and sloping concrete. If you have trip hazards on your property, it's time to take care of them with poly concrete lifting.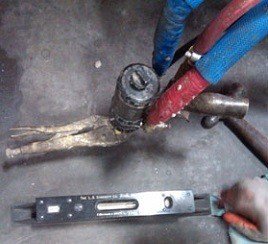 How Does it Work?
Small holes are drilled into the concrete, and the polyurethane material is put into those holes and expands in the area below. This will then raise the slab and lift it into place to be even with the rest. It expands rapidly and dries almost as quickly. It is a fast, effective, and wallet-friendly way to resolve issues with your concrete. There's no need to tear out the whole patio, driveway, or sidewalk.
Poly Concrete Lifting vs. Mudjacking
Mudjacking used to be the main way to lift and level concrete, and it does work well. However, there are some benefits to using poly concrete leveling over mudjacking. Polyurethane is much less invasive. It uses a few, small holes drilled into the concrete. These can easily be filled and covered up as opposed to mudjacking which uses much larger holes due to the nature of the product. Additionally, the equipment used for poly concrete leveling is not as heavy and won't damage your property. Poly concrete leveling is also dry faster and can be used faster than mudjacking. Lastly, poly concrete leveling lasts a long time and mudjacking will usually need to be redone in several years just because it is a mud slurry.
Need Poly Concrete Lifting? Call Rapid
Rapid Foundation Repair can provide you with an estimate and get started on lifting your concrete slab right away. Call us today to schedule an estimate.