Home > Foundation Repair > Helical Piers
Helical Piers for South Dakota, Wyoming, and Nebraska
Quality Foundation Repair Services for the South Dakota and Nebraska Area
Here at Rapid Foundation Repair, we offer only the best foundation repair services. Helical piers are a staple product in the foundation repair industry. Typically these screw-type piers are used on slab foundations, porches, garages, and other structures that are relatively lightweight. In modern industry foundation repair, helical piers are one of the two most common types of structural piering devices for residential foundation applications in use today. Foundation repair services use helical piers to lift homes or stabilize foundations when driven deeply into stable soils.
Foundation Repair Options in South Dakota
Helical piers are screw anchors that work to support your home when your foundation is failing. They come in a variety of lengths and widths to fit every foundation repair situation. Unlike steel push piers, which are merely driven into the soil, helical piers are screwed into the ground to provide extra stability. Once they are driven deep into the solid soil, the weight of the structure is transferred onto them and the foundation is raised to its proper height.
Helical Pier Advantages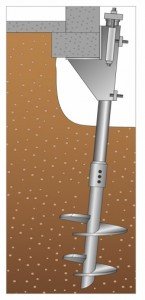 Easy to install
Immediate load transfer upon installation
Little or no vibration
No disturbance to the job site
Can be installed below soils that are affected by water
Can be installed in all kinds of weather
Installed torque has a direct correlation to capacity.
When you find cracks or leaks in your foundation or your walls are bowed, helical piers are your best choice. These foundation piers can provide excellent tension resistance and compressive force, making them an ideal choice in both foundation repair and new construction.  Proper foundation repair with helical piers can save your structure from water damage or other serious problems. Helical piers will lift a shifting or settling foundation and prevent further problems.
Homeowners generally prefer this type of foundation repair choice because it can be installed in any type of weather and only requires smaller equipment so there is no disturbance to the area surrounding the home. By utilizing products from Earth Contact Products (ECP), the leading manufacturer of foundation repair products, you can feel comfortable in knowing that you are getting the best products available used in your home. The helical pier installation is generally much quicker and will take a lot less time than the usual concrete foundation.
ECP Helical Piers are an economically friendly way to stabilize your foundation for years to come. Installation is quick, and the results are instant. Contacting Rapid Foundation Repair for your foundation repair services sooner than later will prevent bigger problems in the future. Leaving a foundation problem go too long will cause more damage to your home and threaten the safety of your family. The professionals at Rapid Foundation Repair can easily assess your faulty foundation to determine if a helical wall tieback/anchor is the correct solution for the problem. Our experts are certified and can narrow down the issue for you and can get the job started without delay. Call us today to schedule your estimate.