Home > Basement Waterproofing > Sump Pump Repairs
Sump Pump Repair for South Dakota, Wyoming, and Nebraska
Sump Pump Repair vs Sump Pump Installation
As a homeowner, you want to protect it from damage. One of the areas of a home that can cause a homeowner to have a headache is the basement. Keeping a basement dry can be one of the most frustrating things that a homeowner can experience. A sump pump system can keep a basement dry by pumping the water away from the foundation. Making sure a sump pump runs effectively is important. However, there are times when a sump pump fails.
Rapid Foundation Repair are experts at inspecting your current sump pump system and determining if it better to repair it or if it is time for an entirely new system. A sump pump or sump pit can stop working because of several different reasons. It can malfunction because the motor has burnt out and the backup battery has run down. It can also be caused by a damaged switch that controls when to come on. Sometimes a sump pump will not function because the inlet screen in the sump pit is blocked by dirt or debris. When your sump pump does quit working, you need to call a professional to come and take a look to see if it simply needs to be repaired or the sump pit screen cleared or if you require a new sump pump system. Indications that you may need to have your sump pump and sump pit replaced are: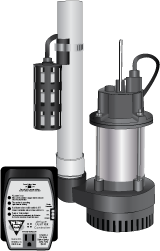 You can see rust on or around the pump
It runs constantly
It is over 7 years old
The sump pump makes a loud noise
The sump pump vibrates when running
Your pump simply quit running
To prevent a flooded basement, call the experts at Rapid Foundation Repair and let us take a look as to why your sump pump is not working properly. We will offer the best solution for your sump pump repair or replacement needs. Whether your sump pump is simply in need of repair or if you need a new system, we will do what is best for you.
Sump Pump Repair and Installation in Wyoming and South Dakota
If the professionals at Rapid Foundation Repair find that you require a new sump pump, we offer only the best in the industry. The pumps and equipment we use are manufactured by Earth Contact Products (ECP). The primary pumps are from 1/3 to 1/2 horsepower and can pump up to 5,000 gallons per hour. We also offer battery back up pumps that will give you peace of mind if the electricity would go off. These battery backup pumps are the most energy-efficient lineup of 12-volt backup pumps on the market today. They have high pumping capacities along with high energy conservation.
This line of sump pump will save you money in the long run by maintaining the value of your home and protecting your possessions from water damage. Whether you need sump pump repair or replacement, let the experts at Rapid Foundation Repair protect your home from water damage. We have the experience and products to make sure your water issues are taken care of and keep your basement dry for many years to come. Don't hesitate to call us at the first sign that you may require a sump pump repair or replacement.