Home > Crawl Space Repair > Crawl Space Piers
Crawl Space Piers for South Dakota, Wyoming, and Nebraska
Dependable Services from Rapid Foundation Repair
Usually, your crawl space has support in the form of concrete columns or metal beams. However, when your crawl space starts to sink or settle, it may be time to consider crawl space piers. Crawl space piers are designed to support the weight of your crawl space and help raise it back to its original position.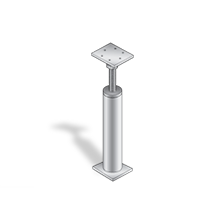 Crawl space piers are installed directly below the load-bearing surface and provide years of support without over-lifting. They are easy to install and won't cause too much disruption in your home.
It is important to check the concrete columns in your crawl space from time to time. Inspect them for cracks or shifting, and check the foundation along the outside of your home for cracks. If you find any signs of damage, call the team at Rapid Foundation Repair. We will come out and inspect your crawl space for signs of sinking or settling and provide the best solution to keep your crawl space stable.
Crawl Space Repair Solutions
Rapid Foundation Repair can provide additional solutions for your crawl space. As much as fifty percent of the air you breathe comes from your crawl space, so a combination of encapsulation, crawl space piers, and vapor barriers can give you a healthy, usable space.
Our team also specializes in helical piers and steel push pier installation. These are used for bigger issues, like sinking and settling foundations, and are designed to support the structure and raise it back to its original position. Our other foundation repair services include wall anchors and helical wall tiebacks to support bowed or leaning walls. We also offer a line of basement waterproofing services to keep your home and crawl space safe and dry, including interior drainage, exterior drainage and waterproofing, sump pump installation, and basement drainage.
Call us today for more information on our crawl space solutions, and to get your estimate. We look forward to helping you maintain your home value, providing you with a clean and healthy crawl space for the future of your home.