Welcome to Rapid Foundation Repair
Expert Foundation Repairs, Waterproofing & Crawl Space Repairs in South Dakota
At Rapid Foundation Repair of South Dakota, we know that most foundation repairs result from water and soil-related problems very common to our area: poor compaction, overloading, excessive organic materials, erosion or expansive soils that expand and shrink with changes in the moisture content of the soil. These conditions can produce stress that damage a home's foundation and the rest of the structure as well.
That is why Rapid Foundation Repair is fully equipped to tackle the many problems soil issues and excessive water can cause: foundation failure; flooded basements; damp, moldy crawlspaces, sinking concrete slabs and more.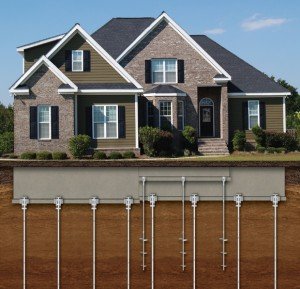 When your home's or business's base is weakened, it can cause a whole host of issues throughout the rest of the building. That is when you need an experienced foundation repair expert to examine the problems, diagnose the issue, and lay out the best ways to fix them.
Underpinning your home with quality foundation repair products such as helical piers or steel push piers will ensure the integrity of your foundation, whether it is a crawl space, slab-on-grade, poured concrete, or block basement.
Our piering foundation repair solutions are installed with far less disturbance to your home and yard than other foundation repair methods, and they offer a permanent solution because they are installed to a load-bearing strata of soil or bedrock and tested to make sure they are able to support the weight of the house.
We don't believe in half-measures that might give some immediate relief but will leave you with the same problems before too long.
You shouldn't have to be nervous to go down into your basement after every rainfall, but that is the reality for too many people with basement water issues.
At Rapid Foundation Repair we offer a variety of solutions, including both interior and exterior drainage systems, that can solve your water woes once and for all.
We can install perforated drain pipe beneath the perimeter of the basement floor to direct any water from the basement walls to a sump pump and ultimately to a place in your yard where it won't cause any more problems.
Our options also include waterproofing the exterior of your basement walls, combining a polymer waterproofing product, a dimple board and a drain pipe system to prevent the water from getting into the walls in the first place.
Our experts can diagnose your water problems and determine which of these, or other solutions, is right for your home.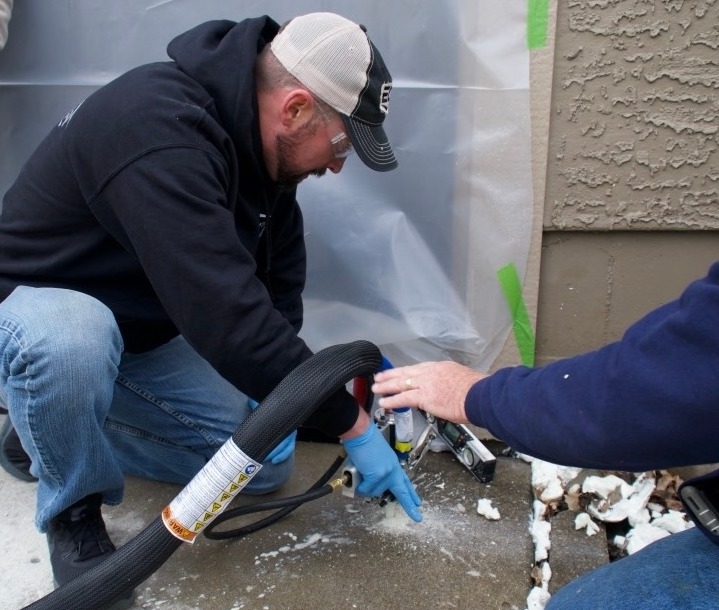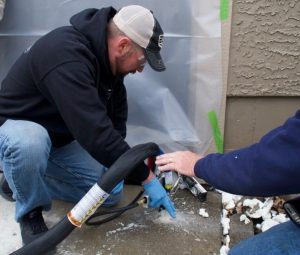 Have you begun to notice uneven cracks in your sidewalk or driveway? Are tripping hazards springing up on your porch or garage floor? If so, we have a solution.
We offer polyurethane concrete lifting services, often called polyjacking, to level concrete slabs that have begun to settle and sink unevenly.
Concrete leveling with polyurethane foam is less expensive than getting new concrete, especially given that simply replacing the concrete might not stop the problems that were causing it to settle in the first place.
The foam lifting offers a more precise and permanent lift than other solutions, such as mudjacking, and can extend the life of your concrete.
Damp crawl spaces come with myriad problems, ranging from annoying (musty odors) to structural (wood rot) to health hazards (mold and mildew).
Thankfully at Rapid Foundation Repair, we have the crawl space solutions to not only repair the damage that moisture has been causing but also prevent the same problems from recurring in the future.
Our crawl space jacks can support floor joists weakened by moisture damage and our crawl space encapsulation services can seal off your crawl space so that moisture can no longer wreak havoc below your home.
Why Choose Rapid Foundation Repair?
Our team of experienced and knowledgeable professionals at Rapid Foundation Repair is ready to take on any foundation or waterproofing problem you might have. We have an A+ rating with the BBB and serving the area since 2009. We offer free inspections. We pride ourselves on our efficient work ethic and excellent customer service. We work very hard to find the right foundation repair or waterproofing solution to fit your budget and needs.
Browse our website to learn about our top-quality foundation repair products such as our helical piers, steel push piers, and plate anchors, or read about what to look for if you suspect there are problems with your home's foundation. From foundation cracks to bowing walls, Rapid Foundation Repair has you covered.
If you need professional foundation repair solutions in South Dakota or areas in Nebraska and Wyoming, contact Rapid Foundation Repair today! You can also learn more about our service area.
Remember our foundation repair inspections are FREE and we'll come to diagnose the cause of your problem and give you a lifetime solution for your foundation, crawl space, and basement problems. Give us a call!