Home > Service Area > Nebraska
Foundation Repair Services in Northern Nebraska
Shifts in humidity and the water level in the soil can cause your Nebraska foundation to settle or crack. This is why it is important to check for foundation problems regularly. If any signs of an issue with your foundation is found, a professional foundation repair contractor should be contacted immediately. That is where we come in! Rapid Foundation Repair is your best choice for foundation repair in Nebraska.
Cities we serve in Nebraska:
The specialists at Rapid Foundation Repair are professionally trained in foundation repair, basement waterproofing, and crawl space repair. We will work with you to find the source of your foundation problems and decide on a solution that works best for you. To ensure that your home receives the best treatment, we use reliable foundation repair and basement waterproofing products from the leading supplier ECP (Earth Contact Products). Contact us today for assistance with all your foundation repair and basement waterproofing needs in Nebraska.
What Causes Foundation Problems in Nebraska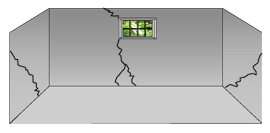 There are many reasons why foundation failure occurs. Most often, foundation problems are caused by a shifting of the soil that supports the foundation. If the soil under your foundation becomes too dry, it will shrink. Voids will then form underneath your foundation due to the lack of soil. These voids cannot adequately support the foundation. As a result, the foundation will sink, settle, and/or develop cracks.
Basement Waterproofing Nebraska Solutions
Water issues are also a hassle for many homeowners, so make sure to contact Rapid Foundation Repair for basement waterproofing in Nebraska. Sometimes water issues arise from foundation cracks which allow water to seep through into the basement or crawlspace. Whatever the cause, it is important to have water issues and foundation problems taken care of as soon as possible; the longer they are left alone, the worse they will get (which will cost you more money). Some of the waterproofing solutions that we provide for your Nebraska home include:
These systems can make your home dry and free of mold, mildew, water stains, and other moisture-related issues. All of these systems working together can make your home drier and healthier. Make sure to contact Rapid Foundation Repair for basement waterproofing in Nebraska.
Crawl Space Repair in Nebraska
We also offer ways to keep moisture out of your crawl space. Rapid Foundation Repair offers vapor barrier installation and crawl space piers. These are both ways to keep moisture out of your crawl space, as well as fix foundation failure problems with your crawl space.
We are your top choice for basement waterproofing, crawl space repair, and foundation repair in Nebraska. Contact us today to ensure your home is in the best possible condition. You won't be disappointed!