Winter Water Management in South Dakota
Winters in South Dakota can be unpredictable, with blizzards and snowstorms raging in many parts of the state and temperatures often dipping into the negatives. Average annual snowfall in many parts of the state can easily go into the triple digits, creating a large amount of added pressure on your home's foundation. And once spring comes around, the melted snow has nowhere to go but into the soil that pushes against your foundation. This cold, wet weather can damage your home's foundation. Because of heavy snowfall, moisture sinks into the soil around your home's foundation and stays there all winter, making water management South Dakota incredibly important to keep your home safe and dry. Certain precautions can be taken to protect your home in the winter, and it is never too early to start prepping your home and its foundation for the colder months.
Winter Weather Can Affect your Basement and Foundation
Basement foundations settle naturally over time, often creating small cracks that can allow excess moisture into your home. However, when snow begins to fall every winter, there is even more moisture in the soil around your foundation. This can lead to cracking and, when the snow begins to thaw, a flooded basement. Because the ground is frozen, water has nowhere to go when warmer temperatures cause heavy snow to melt. The moisture in the soil pushes at your home's foundation, causing cracks and heaves that can affect the structural integrity of your home. Excess moisture can also cause mold and mildew growth. Mold affects your home's air quality and possibly your family's health. Moisture will collect in your home's basement and crawlspace throughout the winter, driving up heating costs and damaging your crawlspace.
Foundation Repair Solutions in South Dakota
If possible, before winter starts, check your home's foundation for signs of damage. It is easiest to have these problems repaired before winter weather can make the situation worse. Survey your home for signs of foundation problems such as cracks, gaps near windows, sticking doors, and water spots.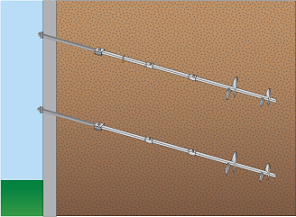 Rapid Foundation Repair can assist with any of these problems, installing a variety of steel or helical piers, wall anchors, and tiebacks to correct your home's foundation. If the wet winter weather has caused cracking in your basement, or thawing snow is leaking into your crawlspace, it is important to get the problem looked at quickly.
The pressure caused by heavy snow can quickly cause bowing and leaning walls which must be fixed as soon as possible by professionals. Quality ECP helical wall tiebacks can be installed in the foundation of your home to correct bowing and leaning walls. These tiebacks can keep heavy, moisture-packed soil from causing any more damage to your home's foundation. To fix the cracks in your home, Rapid Foundation Repair offers helical, resistance, and steel push piers designed to better distribute the weight around your home's foundation and correct cracking. Left alone, especially during the winter, these cracks can let more moisture seep into the house and cause further damage.
Water Management Solutions in South Dakota
Winter water management is key to a safe, dry home. Moisture can cause a large number of problems in your home, from mold growth to foundation cracks. Not only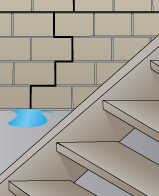 is snow dangerous when it sits around your home's foundation all winter, but it can cause severe problems once temperatures rise and the melted snow has nowhere to go but directly into the cracks in your foundation. If possible, contact Rapid Foundation Repair before winter snowfalls begin to inspect your home and suggest the best water management solutions for you.
Sump pumps can be installed to remove standing water from your home, but it is best to begin with a system that will keep the moisture out of your home to begin with. Exterior drainage systems will keep the water away from your home, during both summer and winter, to ensure that your home stays dry no matter what the weather is outside. Interior drainage systems can be installed, along with vapor barriers, to remove water from your home and prevent th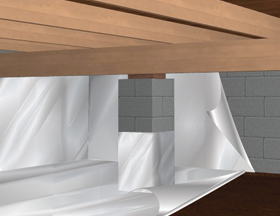 e growth of harmful mold and mildew.  Vapor barriers also guard against excess moisture. Whatever water management South Dakota problems you may be experiencing in your home, there is a practical solution with Rapid Foundation Repair that can save your home and your money in the long run.
The best thing to do to protect your home from winter water damage in South Dakota is to prevent moisture from ever entering your home in the first place. Rapid Foundation Repair offers many preventative measures that will keep the melting snow away from your foundation and out of your basement. To ensure your home's well-being throughout the winter, contact the experts at Rapid Foundation repair. Our team will keep your home safe and dry, regardless of the snow outside.