Think Spring! Think Water Management for your SD Home
South Dakota has some beautiful seasons, including a few crazy thunderstorms in the spring. Don't let weather tear away at your home – make sure your South Dakota home is protected from water! South Dakota water management is extremely important to prevent property damage, mold growth, and humidity problems in your home.
When it rains in South Dakota, large amounts of water become trapped in the soil surrounding your home. The soil has been frozen all winter and usually can't hold that much moisture, so it begins to expand. Some of the water drips down and forms big pools around your foundation. The water sitting around your foundation can cause big cracks, letting the water into your home. This water can provide the perfect opportunity for mold growth in your basement or crawlspace. Mold thrives in dark, damp places, making too much moisture in your crawlspace a very dangerous problem. Mold pollutes the air and makes it harder to breathe. It especially effects the young, the elderly, and those with breathing problems or allergies.
The expanding soil outside your home can also push on your walls, causing them to bow, lean, or crack. Many South Dakota homeowners begin to experience standing pools of water in their home after noticing cracks on their walls. Every time it rains, more moisture slips through those cracks. When there is too much moisture and humidity in your home, the entire house is affected. Doors and windows may begin to stick as the humidity makes them swell, and floorboards may become weak and unstable if the moisture isn't removed quickly.
Overall, South Dakota homeowners may enjoy the occasional thunderstorm, but when the water comes into your home and begins causing problems, it's no longer enjoyable. Because such significant problems can come from water damage, South Dakota water management is a big issue in the springtime. Protect your home from water damage with Rapid Foundation's extensive water protection services.
Keeping your South Dakota Basement or Crawlspace Dry
Rapid Foundation Repair proudly serves South Dakota and the surrounding areas with basement waterproofing and crawlspace encapsulation services. Our professionals provide quality repairs using the best ECP products available. There are multiple options to protect your home from water damage.
Exterior and interior drainage systems can be extremely useful for South Dakota water management.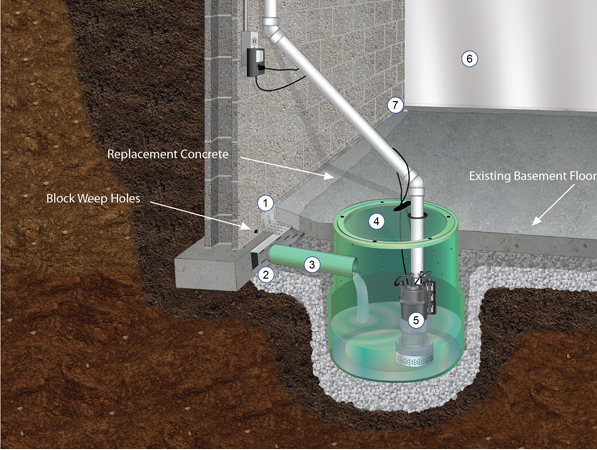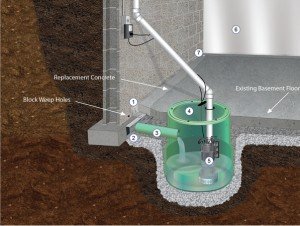 These drainage systems protect your home in two ways, preventing water from entering your home and also removing water from the inside. Exterior drainage systems are easily instilled into the soil outside your basement and provide a tube to help water escape before it floods your home. Interior drainage systems usually involve some sort of sump pump and vapor barrier combination to provide the best coverage possible.
Rapid offers sump pump installation and repair. Sump pumps can be used to quickly remove water from your home after heavy rains, preventing mold from growing and property from being destroyed. Our sump pumps even come with a battery backup in case your family loses power or something breaks. If your family already has a sump pump, be sure to check that it is not rusted, doesn't vibrate or make noise when operating, and does not have any rust. If you have any of these problems with your sump pump, you probably need to replace it.
We also offer crawlspace encapsulation to our South Dakota customers. Water easily becomes trapped in your crawlspace, and the humid environment can cause problems in the rest of your home. The easily solution for a damp crawlspace is a vapor barrier.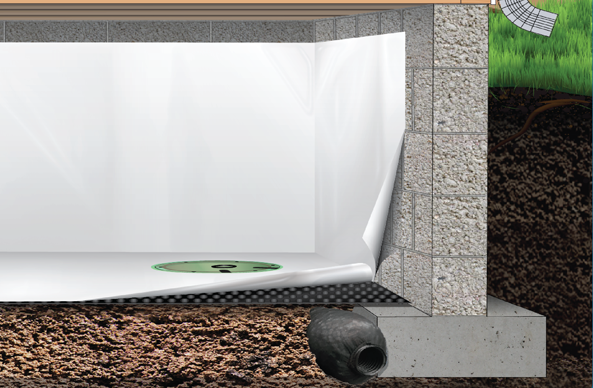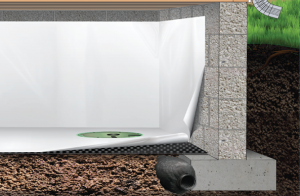 Vapor barriers provide a waterproof seal to prevent water from leaking into the small space. Vapor barriers not only keep water out of your crawlspace, but they prevent dry rot and can lower the humidity in your entire home, lowering your heating and cooling bills significantly.
If you're interested in protecting your South Dakota home from water this spring, consider a water management system from Rapid Foundation Repair. It's never too late to begin taking steps to protect your home. Contact us today!