Wet & Flooded Basements in Sioux Falls, SD
Due to recent flooding in Sioux Falls, South Dakota, many homeowners have experienced serious damage to their home as well as loss of personal belongings destroyed by flood water. Major floods like these can be devastating to a home, forcing homeowners to replace flooring and drywall or even move to a new home. Water damage is a serious issue, as it not only destroys household furniture and possessions, but can also cause the growth of mold and mildew.
Wet Basement Solutions for Sioux Falls Flooding
If you have a wet basement in Sioux Falls, SD, Rapid Foundation Repair can help. We offer a variety of waterproofing solutions for homeowners in South Dakota, Wyoming, and Nebraska. Some of these systems include:
Exterior Drainage: Our exterior drainage systems consist of a waterproof membrane, drainage board, and French drain system. To keep ground water from entering your home, the membrane and drainage board are both installed on the exterior foundation wall. The French drain works to carry the water away from  your foundation. You can also accompany this system with extended downspouts, gutters, and grading to keep water from pooling around your foundation.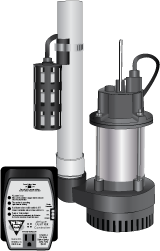 Interior Drainage: This system works alongside the exterior drainage system by taking water from the interior of your home and draining it out. There are channels, pipes, and drains in the basement floor and footings that collect the water and empty it into the sump pit. The sump pit will store the water until the sump pump is able to get it out of the basement.
Sump Pumps: Our sump pump systems consist of high performance pumps,  battery backups, efficient basin designs, check valves and built in alarms for basement drainage needs. They are sealed and very reliable in their performance. When you combine a sump pump with an interior and exterior drainage system, your home is sure to be safe and dry for years to come. These systems also increase the value of your home.
Don't let your wet basement cause you grief any longer. At Rapid Foundation Repair, we are dedicated to keeping your home safe, clean, and absolutely dry by using our remarkable waterproofing services in Sioux Falls, SD and surrounding areas. Let us help you take the precautions necessary to prevent flooding in your basement by installing one of our waterproofing systems today.