Rapid Foundation Repair of SD
Servicing the South Dakota, Wyoming, Nebraska Area with Quality Services
At Rapid Foundation Repair of SD we know that most foundation repairs result from water and soil-related problems: poor compaction, overloading, excessive organic materials, erosion or expansive soils that expand and shrink with changes in the moisture content of the soil. In South Dakota these conditions can produce stress that damage a home's foundation and the rest of the structure as well. Underpinning your home with quality foundation repair products such as helical piers or steel push piers will insure the integrity of your foundation, whether it is a crawl space, slab on grade, poured concrete, or block basement.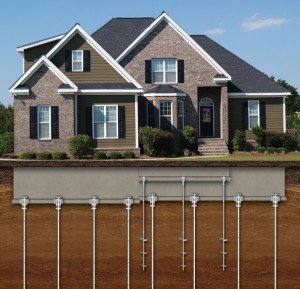 Choose Rapid Foundation Repair
If your home is in the need of foundation repair, you have come to the right place. The first step is to contact us. Rapid Foundation Repair will come to your home and make a thorough inspection to determine the cause of the problem. We will answer your questions and tell you about the solution that will best fix your foundation problem. The professionals at Rapid Foundation Repair will give you a written proposal that details what he will do and the cost of the work. After you approve the proposal, we will make the needed repairs quickly and permanently. Rapid Foundation Repair always recommends that you contact an engineer before having foundation repair work done on your home.
Browse around and learn about foundation repair products like helical piers, steel push piers, and plate anchors or read about what to look for if you suspect there are problems with your home. From cracks to bowing and soils issues it is all here. If you need  professional foundation repair solutions contact Rapid Foundation Repair today! Remember our foundation repair inspections are free and we'll come diagnose the cause of your problem and give you a lifetime solution for your basement problems.