What is underpinning?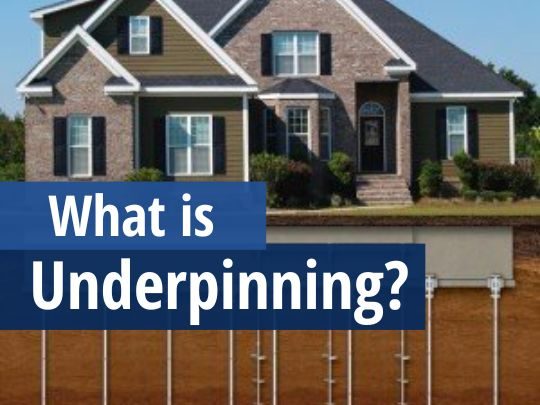 Underpinning is a foundation repair term for products used to lift, support, or stabilize foundations, crawlspaces, garage columns, chimneys, slabs, steps, stoops, and more. Most people don't even realize or know what underpinning is, but in the foundation repair world, these products are known home-savers. Rapid Foundation Repair offers many underpinning solutions you can rely on when your foundation is settling or sinking, or when your foundation walls are bowing and leaning.
What are the types of underpinning?
Helical piers are underpinning tools that are used when you need to need to resist a tension or compressing force. For example, a home may have a chimney that is leaning from foundation settlement. We can use one or two helical piers to lift the chimney back into place, and add support for years to come! These are used widely in the industry and are a very reliable tool for added support.
Sometimes, pressure from water or poorly compressed soil builds up behind a crawlspace, foundation, or retaining wall. This is when a wall anchor comes into play. These are designed for the specific purpose of adding support and pulling leaning and bowing walls back into place. They consist of a wall plate that is placed on the inside of the wall, an outside anchor and a high strength rod tying them together. They are economical, but still provide the lateral force needed to pull that wall back to the original position and add support.
One of the most commonly used underpinning products today is the steel push pier. Push piers are also called micro piles or resistance piers. Depending on the type used, they can either be installed below or on the side of the load that needs the lift and support. Each is installed and load tested individually, therefore they are a safe and strong product you can count on. We use steel push piers and other underpinning products from ECP – the very best in the industry for underpinning products.
The soil around your home is ever-changing, and this puts your foundation into flux. Wall tiebacks or anchors provide extra support for homes that have unstable soil surrounding the foundation. They are driven deep into the stable soils around your home for that extra support. These are an economical and safe choice as an underpinning product for your home and are widely used in the industry today. They can be installed with little disturbance to your landscaping. Since they are relatively simple to install it keeps labor time down, thus keeps the costs down.
What are the signs that a house needs underpinning?
Some signs your home might need underpinning are:
Windows and doors that stick
Sloped floors
Cracked floors, specifically large cracks that go wall to wall
Cracks in walls, particularly large cracks that run horizontally or in a stair-step pattern
Chimneys and porches separating from the house
What happens if you don't underpin a house?
When symptoms of foundation failure are ignored, they tend to get worse. A crack in the wall can turn into a bowing wall, and a bowing wall can turn into a collapsed foundation. To avoid collapsing or sinking, talk to a professional about underpinning for structural support.
So now you know about underpinning. You are almost a pro! But not quite. So count on the professionals at Rapid Foundation Repair to make the right underpinning choice for your home. Keep your home value up and your foundation safe with our help. Call today!