Crawlspace Moisture and Your Family's Health

 Did you know that as much as 50% of the air that you and your family breathes comes from your basement or crawlspace? Many people don't look in their crawlspace very often. The area can smell bad, be humid, and dark. It's kind of like the attic, one of those places you just don't want to go. Heck, it might even have a dirt floor. But problems can lurk in your crawlspace that can lead to a downward spiral in your family's health. You need the help of a crawlspace professional!
Keeping Your SD and WY Crawlspace Healthy – We Can Help!
Wouldn't it be nice to be able to USE that crawlspace? Think of all the extra space you could have if you could use it as storage? Through the process of crawlspace encapsulation. This does exactly what you think, it encloses the whole area and keeps out moisture. It also helps prevent bug infestations, can help with your utility bills, prevents the growth of mold and mildew, and keeps foul smells from moving into the living space of your home. We can add vapor barriers to cover dirt floors, all the way up to the top of the foundation walls. This is a thick barrier that will keep out all moisture. Concrete walls cannot keep out moisture. Moisture can seep into the space through concrete. If there is excess moisture, it will find a way into your crawlspace, so a vapor barrier and encapsulation are a wise choice to prevent moisture from ruining building materials such as wood beams and insulation.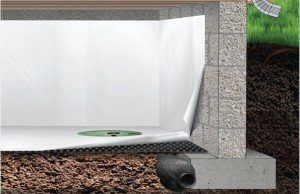 What can you do now with all that extra space? You can use it for storage safely, you can count on it to prevent unhealthy air from moving into your home. That 50% of air coming from the bottom of your home will now be safe to breathe. You can count on your home value remaining intact. You can count on it to last for years and years to come. So consider your family and then consider encapsulation and vapor barriers to keep your family healthy. For more information on crawlspace repair options available to you, call Rapid Foundation Repair today, we would love to help. Get your estimate today!