Basement Flooding and Sump Pumps in South Dakota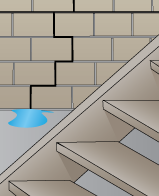 Basement flooding is a very common issue in South Dakota, Nebraska, and Wyoming. If you have extra living space in the basement of your home, be sure to sufficiently protect it by installing a sump pump . 
Sump pumps work to send water out of your basement and away from your home, providing you with a safe and dry living space. They are designed to protect your home from excess groundwater and save you from expensive flood damage repair.
The Importance of a Backup Sump Pump
Like a lot of homeowners, you may already have an AC powered primary sump pump installed in your home. This is a great first step, but if you don't have a battery-powered backup, you're not as safe as you should be.
In many cases, homeowners that have a primary sump pump will still have flooding in their home because of the following situations:
1. The power goes out because of a storm or blown fuse and your primary pump doesn't work
2. Your primary pump fails because of clogging or another mechanical issue
3. The float switch doesn't activate or gets stuck
Here at Rapid Foundation Repair, we have seen these situations occur all too many times. These problems could easily be solved with a battery backup sump pump. Be sure to properly equip your home in case your primary pump fails for any reason. Your primary pump will eventually fail, and without a backup pump, your basement is in danger of flooding.
Choose Rapid Foundation Repair for Sump Pumps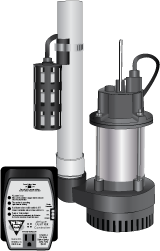 Rapid Foundation Repair encourages every homeowner in South Dakota, Nebraska, and Wyoming to have both a primary sump pump as well as a back up sump pump.
We can install a battery back up sump pump right next to your primary pump. If your primary pump fails, your back up pump will automatically activate when rising water is detected. Even if your primary pump is still working, your back up pump will kick into gear when it detects that there is more water than the primary pump can handle.
Protect your home and family by calling the professionals at Rapid Foundation Repair. We will install the highest grade sump pumps to sufficiently protect your home. Call us today to learn more.