Steps to Keeping a Dry Basement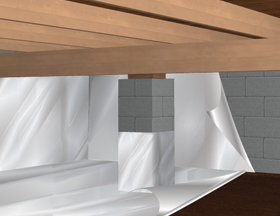 The summer months are finally here. You know what that means, swimming, fireworks, and plenty of fun times to be had, but summer also brings lots of storms. With all the rain, your home is bound to get some water damage. Do not let a wet basement put a damper on your summer. Give us a call today, we will help you keep a dry basement, not only in the summer but throughout the entire year.
Professionals Help you Keep a Dry Basement in South Dakota
Many types of basement waterproofing can help you keep a safe and dry foundation. We offer products and services such as exterior and interior drainage, sump pumps, and vapor barriers. All of these are wonderful products that produce great results, and depending on your specific water situation, you may need all or just one, though these products are usually are recommended for all homes.
Interior and exterior drainage is what helps to get rid of the immediate water problem. If you are experiencing flooding, the drainage is what is going to direct the excess water to your sump pump system. While interior drainage is less expensive and evasive, the exterior drainage is going to take care of the problem before it even starts.
Sump pump systems are going to help you keep water out of your foundation in general. Sump pumps start to deteriorate with age, they become unreliable and start to create moisture. This can lead to health problems such as mold and mildew. By keeping your sump pump system up-to-date you will not have to worry about the contents of your home being ruined by water damage.
Probably the best way to keep a dry basement is by installing a vapor barrier into your basement or crawl space. Vapor barriers are strong sheets of fabric that resist moisture, they also are a strong material that will not tear and let in water. They will keep moisture out of your home, making it so you do not have to worry about mold and rot. It is a great addition to any waterproofed basement.
No matter what your specific water foundation problem is, we promise to provide great service, quality products, and even better results. You can rest easy knowing your home is once again a safe and healthy environment for all its inhabitants. Give Rapid Foundation Repair a call today, we are your number one dry basement team in South Dakota!