Repair Your Crawlspace Before Winter
Crawl Space Encapsulation in South Dakota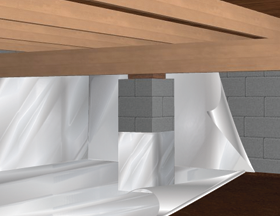 Most homeowners do not fully realize the importance of their crawlspace. They believe that it is merely a convenient place to store holiday decorations and that it has little effect on the rest of the home. In reality, having a damp crawlspace is potentially dangerous to the health of you and your family. Keeping your crawlspace dry and safe is vital, especially in the winter months. The experienced team of professionals at Rapid Foundation Repair can help you with all of your crawl space encapsulation needs.
Often, the crawlspace of a home will develop mold or mildew, due to moisture seeping through the porous concrete. This happens because the crawlspace, the ideal place for mold to grow, is often neglected by homeowners. It is important to protect your crawlspace with a vapor barrier to prevent mold from forming. Not only can this mold spread to anything you may be stored in your crawlspace, but it also enters the air, posing a serious threat to you and your family.
Although you are probably not in your crawlspace very often, much of the air that you breathe comes from your crawlspace. This is especially true in the wintertime when you are heating your home. As the air in a home warms, it rises from the bottom of the home and leaves through the upper region. This process causes the home to suck up air from the crawlspace and basement and distribute it throughout the house and is called the "stack effect." Because of this, the air in your crawlspace must be clean and healthy.
Crawl Space Encapsulation South Dakota services from Rapid Foundation Repair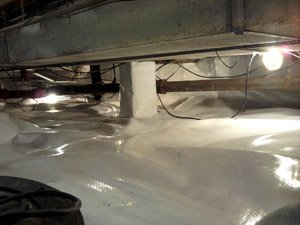 One way to ensure that your crawlspace stays dry and does not cause mold problems is to look into crawl space encapsulation services. This method of crawl space repair South Dakota involves using a damp proofing material (referred to as a vapor barrier) such as plastic or foil sheeting. The Rapid Foundation Repair team will install this vapor barrier over the entire area of the crawlspace to make a watertight seal that will stop moisture from entering and building upon the surface of your crawlspace floor, walls, or ceiling. This will help prevent mold and dry rot problems from arising.
Rapid Foundation Repair offers quality services in crawl space encapsulation and crawlspace repair. We provide you with affordable prices and the top materials manufactured by ECP (Earth Contact Products). Contact us today for more information.