Have A Sinking Foundation? We Can Help.
Is your foundation sinking or settling? If you answer is yes, then this serious issue needs to be addressed sooner than later. Why? A sinking foundation can lead to even bigger issues in your home's foundation. These problems include -but are not limited to- various crack types, including concrete cracks, drive way cracks, wall cracks; sticking doors and windows, leaning walls, leaning chimneys, and even ongoing water issues. At Rapid Foundation Repair, mending a sinking foundation is usually done with helical piers.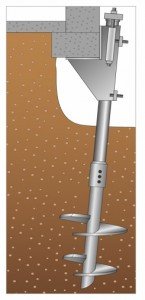 Helical piers have been around for quite some time. In fact, they are particularly known to work well in the soil found beneath our homes. Moreover, professional foundation contractors understand how the soil in the ground can drastically impact a foundation over time.
The best news is that helical piers have several benefits like their ability to minimally disturb soil. This is important because it means the foundation, and area of land in general, will not be impacted. Therefore, the process is less likely to tarnish the yard. Additionally, here are a few other advantages of choosing helical piers for your foundation needs:
Guarantees a permanent stabilized structure
Can be installed during any season
Simple installation process
Load bearing immediately after installation
Permanently restores sinking foundation to its original position
Can be utilized in a new or existing construction
‍The Process
A helical pier consists of a heavy duty steel tube shaft with screw like helical bearing plates welded to it. Additionally, this steel tube is expendable. These particular piers come in various sizes. Additionally, various elements can be added depending on soil denseness. First, the shafts are screwed downward into the soil until the proper load bearing strata is reached. It is then locked into a permanent fix to the anchor in the ground. This process is ideal for light weight structures such as decks, porches, garages, chimneys and single story homes.
‍If you are interested in mending a sinking foundation with helical piers, please contact Rapid Foundation Repair today to get a free quote. We bring fundamental knowledge and years of foundation experience to every job. Give us a call at (605) 716-0300.