Warning Signs of Foundation Failure
The best way to protect your home or business from foundation failure is to know the warning signs. By keeping an eye out for these common problems you can get repairs before your foundation needs major work. These signs may seem minor, but they could mean serious problems for your home or business if you let them worsen. If you notice the following signs, make sure to contact us here at Rapid Foundation Repair. We can help you determine the best way to repair your foundation. The earlier you find problems the faster and cheaper repairs will be, so do not put off repairs. Call us if you find: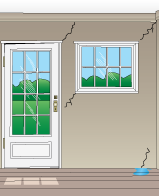 Windows that stick or don't shut
Doors that jam or fail to latch
Cracks in floors, walls, or ceilings
Sloping or uneven floors
Leaning chimney
Chipping, flaking concrete or brick
Leaks or flooding in basement
Wood rot or mold and mildew
Walls that lean or bow
These are all warning signs of foundation failure. While they may not automatically mean you have foundation problems, it is best to have them inspected by a professional from Rapid Foundation Repair. For example, there are a many different types of cracks and they each may point to a different problem. A professional will be able to quickly identify the main issue and help determine the repairs needed.
Foundation Repair Options for Foundation Failure from Rapid Foundation Repair
Rapid Foundation Repair is proud to offer such a wide variety of repair solutions for our customers. We offer foundation repair services along with waterproofing and crawl space repair. Our foundation repair products include helical piers, steel push piers, wall anchors, and helical wall tiebacks. After we inspect your home or business we can help you determine the best course of action and choose the product that is right for your specific situation.
Our products come from Earth Contact Products, one of the top producers of foundation repair products. You can be sure these solutions will last for years to come. These products are high quality and will provide you with peace of mind. Contact us today for more information on the services we offer or for a FREE estimate. Our service area covers most of South Dakota and parts of Wyoming and Nebraska. Give us a call today!