Foundation Failure in South Dakota
Spotting foundation problems before they become foundation failure can save you thousands of dollars. The sooner you identify the problems, the easier and less costly it is to fix it. Homes settle over time and a little settlement is not cause for panic. However, you want to be aware of any warning signs that more dramatic changes are taking place. If you find that a door or window begins to stick, cracks appear in walls or floors, a wall is leaning or bowing, these are some of the signs of foundation settlement.
Check the outside of your house to see if the foundation is straight by looking down the length of your foundation from each corner. They should be straight and not leaning or bowing. If you do notice a bulge or curve, this is a sign that the foundation has shifted, or the soil around your foundation has expanded and contracted, putting pressure on the walls.
In your basement or crawl space, posts should stand straight and firmly planted underneath the beams. Bottoms of the posts should be firm on the concrete piers. There should not be puddles or framing that is wet. There are signs of poor drainage around the foundation. Make sure gutters are cleaned out and the soil slopes away from the foundation.
Knowing how to read the cracks in the foundation can also help in knowing if you have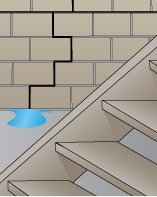 foundation failure. Concrete and block foundations usually have a few cracks due to as concrete cures, it shrinks slightly. By recognizing when the cracks are a serious problem, helps to get the problem fixed before it becomes foundation failure. Stair-step cracks in masonry joints are a bigger concern than hairline cracks in the mortar. A moisture problem is probably exerting pressure on the wall.
Horizontal cracks are more serious. Soil that was water-saturated and expanded, is probably pushing in and breaking the foundation. Watch for these signs of foundation cracks and know when to call a professional. Rapid Foundation Repair has the foundation repair South Dakota experts and products to help with all of your repair needs.
Foundation Failure in North Dakota
Whatever foundation repair needs you require, we have the solutions. Steel push piers for foundation repair in South and North Dakota are the most common foundation repair product used today. These piers are an end-bearing pier that does not rely upon nor require skin friction to product support. Each pier is field load tested after it is installed. The piers are load-tested individually using the maximum weight of the structure as the reaction force.
Helical piers are screw-type piers used for structures that are lighter weight such as porches, slab foundations, and garages. Unlike steel push piers, which are driven into the soil, helical piers are screwed into the ground for extra stability. Once they are driven into solid soil, the weight of the structure is transferred onto them and the foundation is raised to its proper height.
Helical wall tiebacks and anchors is an anchoring system that is used for either temporary as well as permanent soil retention. This system is considered quick and cost-effective. Tiebacks work by attaching one end to the wall and one to a solid object that is driven into the ground. These helical wall tiebacks and anchors decreased the pressure on your walls created by soil pressure.
All the products Rapid Foundation Repair uses are made by Earth Contact Products (ECP), the leading manufacturer of foundation repair and basement waterproofing products made in the industry.
If you have spotted any signs of foundation problems, let our experts take a look and fix the problem before it becomes foundation failure. We will answer any questions you have and will give you a written proposal that details what we will do and what the cost will be. Don't let the problems lead to more expensive repairs. Contact us today!