How to Choose the Correct Sump Pump
Sump Pump Installation
Do you suffer from flooding in your basement every time the heavy rains come? It's a problem that many homeowners suffer from. Water damage is very hard to recover from because so many things can be destroyed by it. It can also cause moisture to hang around your home and cause major issues. When there is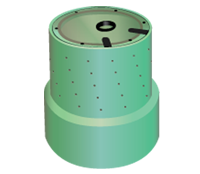 moisture stuck inside your home, you may not even be aware of it. The moisture could be building up in places that you may never even think about; for example, your crawl space. Moisture that is left alone to grow and damage causes mold and mildew and attracts insects and other pests that cause more damage. This can all be avoided if you have the proper waterproofing systems installed to defend your home from these battles.
When you need a sump pump to handle these messes caused by heavy rains and flooding, you need to contact a professional to get one installed for you as soon as possible. At Rapid Foundation Repair we only install the most qualified equipment for your home. We use Earth Contact Products equipment when we are installing them. ECP is the very best manufacturer of steel foundation repair, waterproofing, and anchoring products in the industry today. We want to make sure that you have the best protection there is for your home so that you do not have to stress about heavy rains anymore.
Sump pumps from ECP are used for basement and crawl space drainage purposes. They are there to remove the water that has accumulated around and under the foundation and discharges it away from the foundation. Their sump pumps range from 1/3 to 1/2 horsepower that can pump up to 5,000 gallons per hour They also have batter backup sump pumps which are the most energy-efficient on the market. By having Rapid Foundation Repair come in and install an ECP sump pump, it will save you money in the long run by maintaining the value of your home and by protecting your investment and belongings to water damage.
Contact us at Rapid Foundation Repair to relieve you from unnecessary stress.