Home > Service Area > Ellsworth AFB, SD
Foundation Repair Options in Ellsworth AFB, South Dakota
Foundation repair is an important service, as it helps to improve and retain the structural integrity of your entire home. No matter what type of issue you are having with the foundation of your home in or around Ellsworth Air Force Base, contact the expert repair team at Rapid Foundation Repair right away. We offer a variety of foundation repair and basement waterproofing services for residents of the area.
Several different problems can occur with your foundation at the Ellsworth Air Force Base. Foundation problems can be caused by sudden changes in temperature, soil shifting, or by excess moisture in the ground. Common signs of a foundation problem that you may notice are:
These issues can be fixed using one of the many foundation repair solutions that we offer. For settling or sinking foundations, we install helical piers or steel push piers. These are piers designed to drive or screw deep underground until they reach stable soils. Once underground, the piers can be used to lift and stabilize the sinking concrete of the foundation.
We also offer solutions for bowing walls and shifting foundations. Two different types of anchors, wall anchors or helical tiebacks, can be used to pull foundation walls straight. While helical tiebacks screw into the ground horizontally, wall anchors utilize an anchor that is sunk into the ground and a rod and plate system.
Waterproofing Solutions in Ellsworth AFB, SD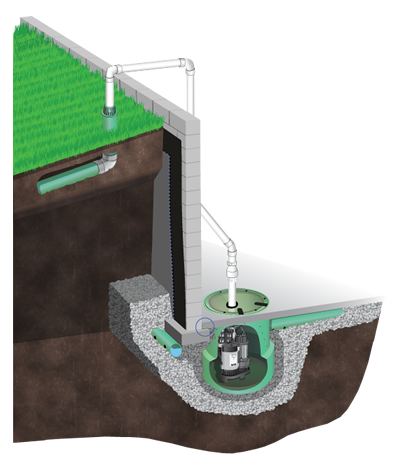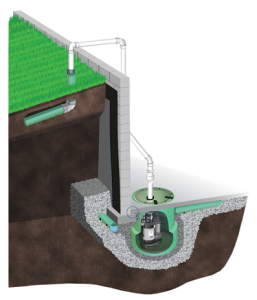 We also offer several solutions for your wet basement problems. If you have started to notice a moldy smell, high levels of humidity, water stains, leaking water, or puddles in your basement, you may need basement waterproofing services from Rapid Foundation Repair.
Water in your basement can be prevented by installing a surface drainage system to keep water away from the foundation. Exterior drainage also helps to prevent water leakage. This system consists of the waterproof membrane on the foundation, the drainage board, and drainage pipes. Interior drainage is the last step in the system and helps to remove water from your basement. The sump pump system collects the water from the drain channels and pipes and pumps it out of the basement.
Crawl Space Repair in Ellsworth AFB, South Dakota
The crawl space is one home area that is often forgotten about. However, you must keep your crawl space dry and stable. If your crawl space has started to sink and settle due to foundation issues, it may be time to install crawl space piers. These piers will help to support the crawl space and prevent any structural issues from occurring.
Moisture is one of the biggest issues in many crawl spaces. Some signs of a moisture problem in your crawl space are:
Musty smell
High humidity
Mold and mildew
Damp insulation
Wood rot
Condensation on pipes
Metal rust
Water stains
If you see any of these signs, contact Rapid Foundation Repair to have a vapor barrier installed. Vapor barriers are made of plastic or foil sheeting and are installed using a process called crawl space encapsulation. Once the vapor barrier is installed, it will seal moisture out of the crawl space.
If you need crawl space repair or encapsulation, basement waterproofing, or foundation repair in the Ellsworth AFB, SD area, contact Rapid Foundation Repair today.