Crawl Space Encapsulation Adds Value to Your Home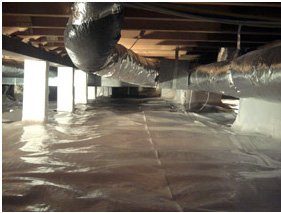 A wet crawl space is a problem no homeowner wants to come across. It causes a musty smell, mold and mildew growth, pest infestations, sagging floors, and structural damage. The experts at Rapid Foundation Repair are highly trained in these situations and can easily spot warning signs of a crawl space issue. The best way to combat moisture is crawl space encapsulation, the process in which we seal and insulate the crawl space with a durable vapor barrier. This barrier, usually made of foil or plastic, can resist moisture diffusion through walls, keeping your crawl space nice and dry. 
While it makes perfect sense to encapsulate your crawl space after discovering a moisture problem, you might also consider getting the process done before a problem arises. Crawl space encapsulation can prevent significant issues and increase the value of your home. 
How Crawl Space Encapsulation Increases Home Value
Improves Air Quality: A large portion of the air you breathe inside your home comes from your crawl space. With a vapor barrier keeping excess moisture under control, mold growth is less likely. This helps to keep the air and your lungs healthier. 
Reduces Energy Costs: Controlled moisture and humidity mean more controlled temperatures. If your house has high humidity because of your crawl space, the HVAC system has to work harder to get the temperature to a comfortable level. Crawl space encapsulation removes that problem and takes a load off your HVAC system, meaning money off your utility bill.
Keeps Pests at Bay: An open crawl space invites all kinds of pests, like rodents and insects. Encapsulation helps keep them out.
Indoor Comfort: When the humidity is taken care of by a vapor barrier, the temperatures above will be much more comfortable. Floors will be warmer in the winter and cooler in the summer.
Less Repair Down The Road: When you get crawl space encapsulation, you are lessening the need for future damage repair. Because excess moisture can cause mold growth and foundation structure issues, leading to expensive repair projects. By protecting your home from these issues in the first place, you can rest easier and save money. 
Contact Rapid Foundation Repair For An Inspection
If you want to increase the value of your home, look no further than crawl space encapsulation by Rapid Foundation Repair. We can evaluate the condition of your crawl space, fix any issues we find, and install a vapor barrier with quality products from Earth Contact Products. Give yourself peace of mind and contact us today.