Snow and Ice Melt can mean Wet Basements in Nebraska
Winters in Nebraska can be unpredictable, with temperatures that rise and fall so quickly, you barely have time to prepare your home for the coming snow. However, snow and ice can cause numerous problems for your home once spring rolls around and they begin to melt. As the snow and ground begin to thaw, your home's foundation will be bombarded with moisture from all sides. This excess water can cause immense problems with your home's foundation.The melting snow will pool around your home's foundation and slip in through cracks. This can affect both your basement and your crawlspace.
Melting snow can cause big headaches for Nebraska homeowners. The water that leaks into your home as the weather begins to warm up could cause mold or mildew growth, a cracked foundation, sticking doors or windows caused by excess humidity, and damage to personal possessions.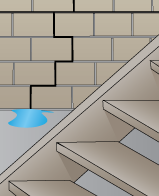 Mold can severely hinder the air quality and be harmful to your family's health, and foundation problems simply aren't safe. If you aren't properly prepared, you could be facing a large financial burden in the spring. Instead of waiting for the snow to melt and dealing with the problem afterwards, you could easily prevent the problem from ever happening in the first place. This is where Rapid Foundation Repair comes in.
Basement waterproofing is a useful tool for Nebraska homeowners, especially those that live in an area where large amounts of rain or snow throughout the year are common. Rapid's exterior and interior basement waterproofing solutions can prevent water damage to your home.
Interior Waterproofing Solutions for Nebraska
Interior waterproofing will keep any moisture that enters your home from causing damage. There are multiple valuable options when it comes to interior basement waterproofing in your Nebraska home, including:
Sump Pump Installation. Rapid utilizes high quality ECP sump pumps in all our sump pump installations. These are designed to remove water from your home, even large standing amounts, in a speedy manner. These can be installed with battery backups, and Rapid Foundation Repair also repairs broken sump pumps.
Interior Drainage Systems. An interior drainage system can work wonders in your home. Many homeowners across the state of Nebraska experience water in their homes, and this removes it quickly with no work on your part. This is a less expensive option than exterior waterproofing and, when installed by a professional such as those at Rapid, it is very effective in removing water.
Crawlspace Encapsulation. Crawlspace encapsulation is needed when you notice a musty smell, mold, pests, or moisture in your crawlspace. These problems can be remedied quickly be installing a vapor barrier in your crawlspace. Vapor barriers are usually made of plastic or foil and serve as a waterproof barrier between your walls and your crawlspace.
Exterior Waterproofing Solutions for Nebraska
Exterior drainage systems are the most common type of exterior waterproofing. They are installed on the exterior of your home to combat water problems. These are often a bit more expensive than interior drainage, but they keep the water from ever entering your home in the first place.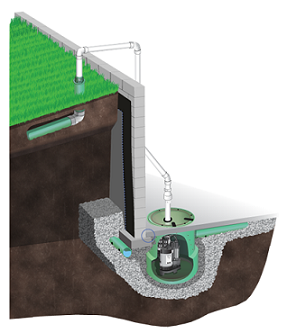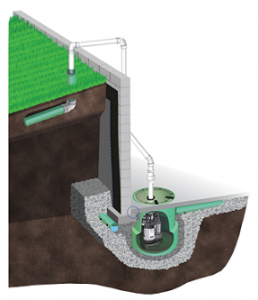 Rapid uses the best ECP products in our installation, and all jobs are done by trained professionals. Exterior drainage can protect both your crawlspace and basement.
A key part in exterior waterproofing is trying to keep water away from your home. Rapid will inspect your home to see if your rain spouts end an adequate distance away from your house, reducing the possibility of water seeping into the soil nearest the foundation and returning to the basement. You must also make sure your gutters are clear.
Rapid offers various solutions for your waterproofing problems in Nebraska. Whatever the problem may be, contact us today for more information. Our experienced staff is prepared to assist you in keeping your basement dry in any way possible.