Water in Yard in South Dakota
If water is pooling in your yard, it could cause some serious problems in your home. It is important to keep water from collecting in puddles around your foundation. Water that is allowed to pool near your home may seep through the porous concrete of your foundation to get into the basement. This leads to a wet basement, mold growth, water stains, and other problems. Contact the experts at Rapid Foundation Repair for solutions for your South Dakota or Wyoming home today.
Some of the causes of pooling water in your South Dakota or Wyoming home may be:
Poor Drainage: Any malfunctioning drainage systems can result in a backflow that collects in your yard and seep into the foundation.
Broken Gutters: Gutters that do not function properly may dump water out next to your foundation.
Low Spots in Yard: Low areas in your yard allow water to form puddles and marshy areas that can lead to basement moisture problems.
The best way to take care of these problems is to invest in basement drainage services from Rapid Foundation Repair. Contact our team today for help.
Basement Waterproofing Options in South Dakota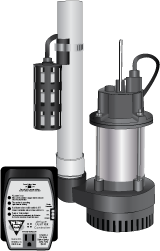 Interior drainage can help you remove any water that has made its way into your home from pooling water in your yard. This system is made up of the interior drain pipes, water channels, and the sump pump system. The water drains into the sump pit, where it is stored until the sump pump can remove it. It is a good idea to have a backup battery sump pump to keep the primary sump pump from becoming overloaded. Our sump pits have a uniques bell shape that allows the pumps to run 40% less often. This means that your sump pump will last longer to provide long-term water protection for your home.
Other systems are the basement drainage system – the gutters, downspouts, grading, catch basins, drywells, etc. and the exterior drainage system. The basement drainage system prevents water from collecting in your yard in the first place by carrying it away from the home. The exterior drainage system can help to reduce the groundwater around your foundation to prevent water seepage.
Contact our team today for more information about our basement waterproofing methods and how they can reduce water pooling in the yard of your South Dakota, Nebraska, or Wyoming home.