Home > Service Area > Sioux Falls, SD
Foundation Repair, Waterproofing & More in Sioux Falls, SD
Rapid Foundation Repair is there to help with all of your Sioux Falls foundation repair and basement waterproofing needs.
Whether you have a sinking or settling foundation due to shrinking soils, or a wet basement resulting from poor drainage, Rapid Foundation Repair can provide the solutions for you and your Sioux Falls, SD, home.
Our team of contractors has the necessary expertise and equipment to keep your home safe and dry all year round.
Services We Offer in Sioux Falls
Dependable Foundation Repair Services in Sioux Falls, South Dakota

Rapid Foundation Repair proudly serves this area when your home is in need, and there are few problems that cause as widespread of issues than foundation issues.
Just look at some of the common signs that there is an issue with your foundation:
A wet basement, damp crawl space, and water stains can also be symptoms of foundation failure.
These problems affect the structural integrity. If you find any of these signs in your home, contact a foundation repair contractor immediately to find a solution. The longer you put off repairs, the worse the problem will become.
How We Repair Foundations
In many cases, foundation problems are caused by the soil underneath a home being unable to adequately and consistently support its weight. This leads to foundation settlement, and uneven settlement will stress and damage the home's base.
When this happens, you need to transfer the weight of the home to something more stable than the soil.
Our helical piers and steel push piers are just a couple of options that we offer for your foundation repair.
We drill or sink the piers into the ground until they reach a layer of soil strong enough to support the home.
Once the piers are anchored in the ground, the weight of the failing structure is transferred onto them via brackets that are attached to your home's foundation. The foundation is then raised to its original position, fully supported and stabilized.
We also can install helical piers in new home construction as well as foundation repair, preventing any future problems from occurring.
Basement Waterproofing in Sioux Falls, SD
Basement waterproofing is a very important area to consider, especially if you have or plan to have a finished basement. Getting the proper exterior and interior waterproofing done will prevent any damage to the contents of your basement later down the line.
We offer both interior and exterior waterproofing solutions.
For exterior waterproofing, along with drains and dry wells, we can waterproof your basement walls from the outside. First, we excavate the area around the basement walls. Then we apply first a polymer waterproofing product and then a dimple board to the walls. This both keeps the water from entering the walls and directs it down to a drain pipe at the base of the wall that whisks the water away from your basement to a place where it won't damage your home.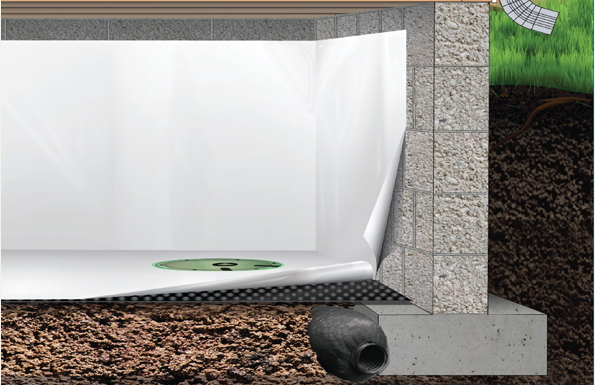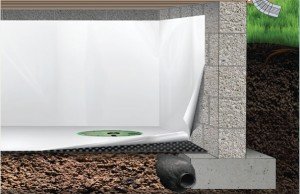 Our interior waterproofing systems use sump pumps, perhaps the most famous basement waterproofing product. They also, however, can include a drainage system under the basement floor to direct any water that seeps into the basement walls to the sump pump.
To keep water out of your basement, it is important to make sure that your exterior drainage system, interior drainage system, and sump pump system are working properly. Contact us today for all of your basement waterproofing needs.
Crawl Space Encapsulation & Repair in Sioux Falls, SD
Here at Rapid Foundation Repair, we are happy to provide crawl space repair services along with basement waterproofing.
With crawl spaces, most of the problems can be traced back to two issues: moisture and pests.
Therefore it is important to have a solution that can keep both water (as well as excessive water vapor) and insects such as termites out.
That is why we offer crawl space encapsulation services. In crawl space encapsulation, we use vapor barriers and other tools to effectively seal off your crawl space, preventing both water and pests from entering either through the walls or the ground below. We will truly waterproof your crawl space to prevent water damage and mold and mildew growth.
And if having a damp crawl space has already begun to cause wood rot, we can install crawl space piers to provide support to weakened floor joists. This can solve issues such as sagging or spongy floors.
Concrete Lifting Services
Just like your home's foundation, any concrete slab can fall victim to uneven settlement. This can cause unsightly cracks and tripping hazards and shorten the lifespan of your concrete.
You aren't going to drill a helical pier down into the depth of the soil to lift a chunk of sidewalk, however.
That is where our polyurethane foam concrete leveling system comes into play.
Similar to the older mudjacking, poly concrete lifting, or polyjacking, involves injecting an expanding polyurethane foam beneath the concrete slab. As the foam expands, it both fills the voids and compacts the soil underneath while applying hydraulic pressure to lift the slab.
Polyjacking is preferable to mudjacking, however, because is more precise and, because the holes needed to inject the foam are smaller, much lower impact. Because the foam after hardening is impervious to water or chemicals, polyjacking offers a much more permanent solution than mudjacking does.
We can use poly concrete lifting on a variety of concrete surfaces, including:
Driveways
Sidewalks
Pool decks
Porches
Stairs
Garage floors
Concrete slabs
Bowing Wall Repair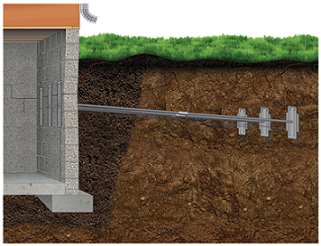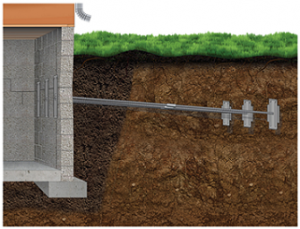 If you begin to notice horizontal cracks and bowing in your basement walls, it is time to have your home looked at by a foundation repair specialist.
This bowing is usually caused by excessive pressure being applied to the wall from the soil outside, often because of water.
Much like foundation repair, you need a way to anchor your wall to alleviate the pressure.
Where you go down below your house for foundation repair, with bowing wall repair you go outward.
We use helical tiebacks and wall anchors to anchor the wall in the soil outside, giving it additional strength to withstand the pressure pushing against it.
Contact Rapid Foundation Repair for Your Foundation Repair and Waterproofing Needs in Sioux Falls
If your Sioux Falls home requires either foundation repair or basement waterproofing, call us today and we will be there to provide you with the professional service that you deserve. Don't let soil issues affect your home and cause you headaches in the future. Do it right the first time. Call us today.