Full Foundation Repair Nebraska and South Dakota Services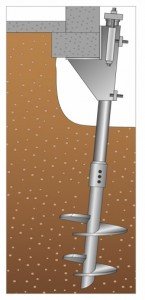 Nebraska and South Dakota have similar climates, which means foundation repair is a prominent issue for both states. Here at Rapid Foundation Repair, we are more than happy to offer full foundation repair Nebraska services to ensure your home is in the best condition possible.
Foundation problems are often caused by varying levels of moisture in the soil under and around your home. When the temperature and moisture level changes, the soil around your foundation moves, causing your home to sink and shift. A faulty foundation creates a multitude of problems that are a serious threat to your home's value and your family's safety. Keep an eye out for common signs of foundation problems, such a bowing and leaning walls, sticking windows and doors, wall cracks, foundation cracks, stoop and porch problems, and a sinking and settling garage. These problems can worsen over time so it is important to contact an expert from Rapid Foundation Repair right away.
Foundation Repair Options for Nebraska
We offer a variety of foundation repair solutions to stabilize and lift your foundation and support your walls. Most of our foundation repair options create little to no disturbance to the installation site, so there is no need to worry about your home or landscape. We use only "the very best" in foundation repair equipment from Earth Contact Problems. Our products are affordable and durable, and many solutions are completely permanent.
Helical Piers and Steel Push Piers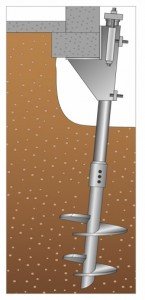 Helical Piers are an easy fix for foundation cracks and other problems. The installation is quick and the results are immediate. They stabilize your foundation to ensure it stays put, no matter what the soil conditions are. Similarly, Steel Push Piers are an easy installation to support your foundation. Each pier is tested to make sure it will support the weight needed. Although steel push piers are a little more involved than helical piers, they support your foundation, fix any existing problems, and prevent situations from happening in the future.
Wall Anchors and Helical Wall Tiebacks
Wall Anchors are used to support and correct bowing or leaning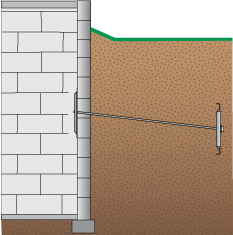 walls. It a plate that is bolted to your foundation wall, and is attached to a rod. They take the weight of your walls off your foundation, allowing them to straighten. Helical Wall Tiebacks are another cost-effective way to support your walls and retain the soil. They require no grout or curing time, so the results are immediate.
To keep your home in the best condition possible, contact an expert from Rapid Foundation Repair. We will be happy to service any foundation repair needs you may have in Nebraska. Contact us today for more information!