Home > Service Area > Buffalo Gap, SD
Rapid Foundation Repair in Buffalo Gap, South Dakota
Rapid Foundation Repair is proud to offer our services to those in Buffalo Gap, South Dakota. We offer services such as foundation repair, waterproofing, and crawl space repair for those in this town. If you live in Buffalo Gap and notice signs of foundation failure or water damage, you may need to contact us. Some signs or symptoms of foundation failure or water damage include:

These are signs that, as a homeowner, you need to be conscious of. If you notice one or more of these signs around your home, you may need foundation repair, waterproofing, or crawlspace repair. Rapid Foundation Repair can help you there. We offer a variety of products and services to fix every one of these problems.
We also want you to contact us as soon as you begin to notice these problems. The longer you let foundation failure go unchecked the worse it can get, leading to more expensive, time-consuming, and complex repairs. So call Rapid Foundation Repair today. We want to help you feel safe and secure in your home.
Repair Solutions for Buffalo Gap, South Dakota
Rapid Foundation Repair offers a variety of solutions when it comes to foundation failure. We are lucky enough to have products from a top producer of foundation repair and waterproofing tools. Earth Contact Products produces top quality products that we use in almost all our repairs. With these products, you can rest easy knowing the repairs will last for many years to come. Some of our products and services include: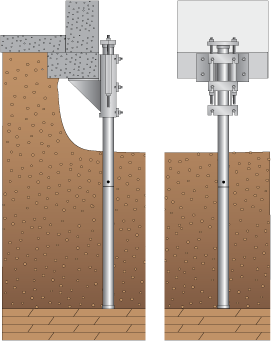 Our Rapid Foundation Repair professionals will help you decide and choose which of these services or products will best help your specific situation. Our repairs are top quality and our team of contractors is a group of experienced professionals who are trained in what they do. You can have peace of mind knowing your investment is safe in Rapid Foundation Repair's hands. Foundation repair is a big investment, so we want you to be happy with every aspect of our service. Contact us today to learn more about our company or our foundation repair, waterproofing, and crawl space repair services. We want to hear from you. Give us a call today!