Home > Service Area > Elm Springs
Foundation Repair in Elm Springs, SD
Rapid Foundation Repair is happy to provide quality foundation repair and basement waterproofing to the residents of Elm Springs, SD. Do you have a foundation crack, a settling foundation, or a bowing basement wall? We can take care of all of these problems and more with our many solutions. No matter what kind of foundation issue you have, you can rely on the expert service and quality products from ECP (Earth Contact Products) that we provide for your Elm Springs home.
Some of the common symptoms of a foundation problem in your home might include:
Settlement or Sinking
Floor and Wall Cracks
Leaning Chimney
Bowing and Leaning Walls
Sloped or Uneven Floors
Wet Basement
Shifting and Moving Foundations
Crumbling Foundation
Crawlspace Moisture
These are all signs that your home could be suffering from some sort of foundation issue. Often, foundation issues like cracks will also cause basement water leaks or create a moisture problem in the crawl space. This makes it even more important to have these problems fixed as soon as possible.
Basement Waterproofing Options in Elm Springs, South Dakota
Not only can we repair foundation problems in your Elm Springs, South Dakota home, but we can also take care of basement water leaks. We use several different waterproofing systems and techniques to eradicate the water from your home. If you notice high humidity, musty odors, and dampness in your basement, do not wait to call one of the waterproofing experts at Rapid Foundation Repair.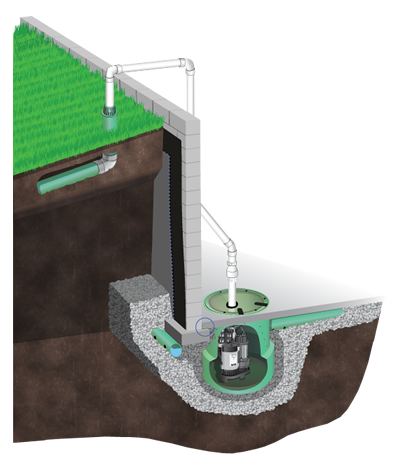 The sooner you allow us to come and install a waterproofing system in your home, the better off your entire home will be. We provide both exterior and interior waterproofing options to take care of water leakage and seepage no matter where it is coming from. We can also install a sump pump system to keep your home safe during storms.
Yet another service that we offer is crawl space repair. If your crawl space has a structural issue, we can repair it with crawl space piers. If the crawl space has a moisture problem, we will install a vapor barrier to seal the water.
Contact Rapid Foundation Repair immediately to learn more about our foundation repair and basement waterproofing options in the Elm Springs, SD area. We even offer garage foundation repair for your Elm Springs home!