Home > Service Area > Belle, SD
Foundation Repair Belle SD
Quality and Dependable Foundation Repair Services
When you are concerned about your home's foundation in Belle and whether or not it is still as sound as the day it was built, look to Rapid Foundation Repair for the answers. When you are beginning to notice that your foundation is settling or that your walls are cracking, then foundation repair is probably what is needing to be done to your home.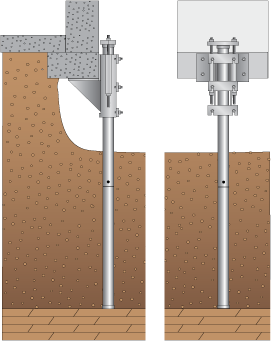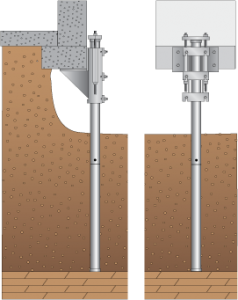 This issue can happen because of the moisture content in the soil and the varying temperatures. The soil has a tendency to expand and shrink which then causes stress to your foundation. Some options that contractors consider when doing foundation repair are steel push piers and helical piers.
The steel push piers that are used to repair your home's foundation are relatively quiet and vibration-free hydraulic equipment is used to install them. There is no wait time for concrete to cure and your structure can immediately be restored. Helical piers, known for their ease of installation and the immediate load transfer that happens upon installation, makes this a great choice for the repair of the structure that is more lightweight.
Wall cracks often occur due to foundation settlement.  With Rapid Foundation Repair's epoxy crack injection.  We guarantee that your cracks will be sealed from moisture, in addition, they will regain their original strength.  For all of your needs, call us today!
Your Basement Waterproofing Belle, SD Source
Your basement is an important part of your home. Because it is built below the ground, there is a greater chance that you will have some type of water or moisture entering through the floors or walls. When this happens, you and your family are at more of a health risk associated with mold that can accumulate.  For all your basement crack needs, call Rapid Foundation Repair.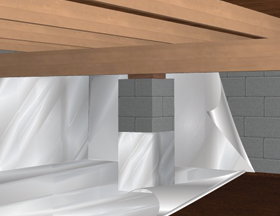 Dealing with the musty smell is also a huge problem when your basement is wet. Making sure that you have the proper barriers in place to prevent this from occurring in your home is very important. At Rapid Foundation Repair, we offer wall vapor barriers, along with interior and exterior drainage systems. When choosing the wall vapor barrier option, plastic sheets are used to resist the moisture from entering through your foundation.
For your interior waterproofing needs, a quality sump pump being installed is key. This can help reduce the moisture content in your basement and even help when there is already standing water. If you are building a new home, make sure that the exterior drainage system is moving the moisture away from your foundation to assure that there will be no problems in the future.
Crawl Space Repair Belle SD
Here at Rapid Foundation Repair, we are also happy to provide crawl space repair services. We offer foundation support systems using steel push piers and crawl space encapsulation systems to prevent your crawl space from water damage. Vapor barriers prevent moisture from entering the space.
If your Belle, SD home is in need of foundation repair or basement waterproofing, Rapid Foundation Repair will be there to provide the services for you. We use only the best methods and top quality products from ECP (Earth Contact Products). Call us today for your consultation and get the professionals there to do the job right.